Nimisha Raja is founder of Nim's Fruit Crisps, a Multi Award Winning and innovative snack that is looking to shake up the healthy snack market.
The former cafe owner set up Nim's Fruit Crisps in 2011 after being inspired to combat unhealthy snacking patterns in kids and adults alike. Nimisha's passion for healthy snacking and a healthy lifestyle in general has led her to spend the past 3 years researching and developing various healthy snack and along the way has bagged 3 Great Taste Awards, a Free From Food Commendation in the children's category which was judged by children and become official partners with Change 4 Life.
Nimisha believes that the perfect snack or food is one that is not only devoid of any 'bad stuff' but more importantly, retains as much of the original nutrients, goodness as possible and tastes great too. Following a great deal of trials and tribulations, she has created just such a snack and having now perfected the products and packaging, she has taken the ultimate step in moving production from Europe and set up a state of the art 10,000 sq ft production factory in Kent where she continues to work on new product development to her heart's content. She will be launching the first ever range of 100% Natural Air Dried Vegetable Crisps in April.
Nim's Fruit Crisps bring manufacturing to the UK with unique new machinery
Innovative healthy snacking brand Nim's Fruit Crisps announced the opening of its new Kent-based factory, having secured an investment of over £350,000. With exclusive machinery making it the only British facility with the ability to air-dry fruit and vegetables on a large scale, the new site sets the company apart from competitor fruit crisps brands on the market which tend to freeze-dry or vacuum-fry.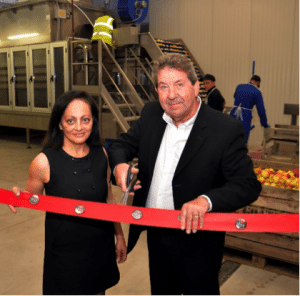 While the business had previously partnered with a factory in Eastern Europe, founder Nimisha Raja is passionate about British manufacturing and also felt she could greatly improve the quality and consistency of her already award-winning product by setting up her own UK-based factory. The new site means the brand can ensure an exceptional level of quality and consistency of product, as well as being able to respond to customer demands and bespoke orders swiftly and to exacting specifications.
The unique state-of-the-art machinery used to produce the new range of Nim's Fruit Crisps, not only gives the company complete control of the manufacturing and packing process but also provides a product with a higher nutritional content, crisper texture, sweeter taste, brighter colour and amazingly intense natural flavour. The manufacturing process also means the skin, core and pips in each fruit, except pineapple which has a rather tough skin, are left intact.