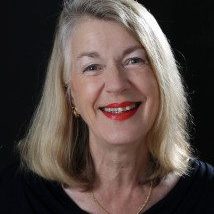 Denise Barnes has travelled the world, unpacking her suitcase in a score of countries and working at more jobs than she cares to remember.
Mentionable events include selling lipstick in a Denver department store to top English model of the day, Jean Shrimpton; typing on a French keyboard for the UN Narcotics Director in Geneva; chauffeuring a lonely Swiss multi-millionaire lawyer in Zurich; being the first fashion model in Atlanta to dance to pop music; working as a PA to a film producer and delivering a film script to Richard Harris in Rome and not recognizing him (he was not amused); and cooking in a vegetarian sanatorium in Bavaria, which gave rise to her first hilarious memoir.
Back home in England, Denise reluctantly began her training as an estate agent – and loved it! Juggling the running of her chain of eight offices in Kent with taking an Honours Degree with Open University, Denise had difficulty finding the time to pursue her life- long passion for writing.
To give herself the freedom to write she sold her business after 17 years, but unfortunately to the wrong buyers, namely a couple of tricksters, which resulted in a second, more serious, memoir. Buying back the business and after six years selling it once again, she is now able to resume her love of fiction writing, under the pen-name, Fenella Forster.