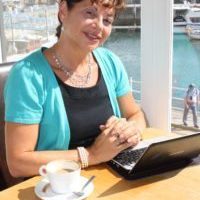 Bernie led the creation of the UK's Responsible Finance industry in her role as CEO of Community Development Finance Association. She has raised over £85m in investment, sponsorship and grants.
She is an experienced grantmaker and fundraiser and now works as a consultant with Craigmyle Fundraising Consultancy supporting organisations, particularly charities and social enterprises to clarify their goals, articulate their impact and move to sustainability through raising funds from new sources.
Bernie is a trustee of RBS Social and Community Capital and also chairs the board of the Dreamland Trust, a charity which protects the heritage and educations aspects of dreamland, the world's oldest amusement park.
Bernie also owns Bernie's Chocolate Bar which overlooks the sea in Margate, Kent. A haven for all!
In her spare time, Bernie is a stand-up comedian and she teaches and mentors others in the 'art' of stand-up comedy.