We are sometimes asked how many listeners we have, and the simple answer is that we don't exactly know.
In fact, getting accurate measurements of the size and demographics of a radio audience is not an easy process. Across all forms of media, gathering and analysing listening and engagement data is one of the most costly aspects of media management and right now we are focusing on production and giving a voice to as many women as we can.
As with many forms of media, the show can be listened to through one device by a single person, or as in the case of this show, we are told it is played in offices where there are lots of people in one space.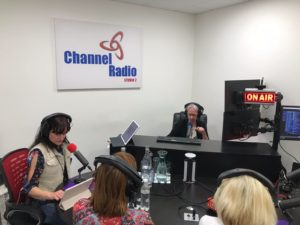 Because the show is published as a podcast, people sometimes assume this is how it starts out.  However, the show is broadcast live each week from one of the Channel Radio studios which has three separate stations.  We are broadcast from Channel Radio Two which is for business and talk radio.  The station figures across all of it's shows suggest a minimum number of 3,000 listeners for any of the live shows.
Each show is also available for the week after the show on the station's listen again feature.  Channel Radio also broadcasts it on another 8 separate occasions per week at different times so that it can accommodate our international listeners.
Each live show is then turned into podcast which is then distributed to over 30 networks and listening methods,  including iTunes and iHeart, and the number of networks is increasing all the time. This means that each show is evergreen and available 'forever'.  Just on Spreaker we have over 14,000 downloads and 9,000 listening hours through that one platform.
We have also just agreed a syndication of the show to another radio station (and so their listener numbers will be added into the mix) and we will be seeking more of these opportunities soon.
The social media audience for the show increases steadily.  Collectively on Twitter, which is our most active and engaged platform we have a total potential audience of 45K followers, and this is increasing all the time.
Anecdotally, we know we are getting our message out there because of the number of agents and potential guests who find us, plus the feedback and comments we get from business organisations who contact us directly.
And it doesn't stop there because every guest who takes part in the show can get a recording of 'their' show to share on social media, send to their own audience and embed on their own website.
So what's coming in the future?  The show is seeking funding and one of the aspects we will review is to enhance our data gathering and analysis.
In the meantime we continue with our mission:
To share the information women in business need to grow.
Provide a free, friendly and fun platform where women can get media experience and talk about their business based on their knowledge, experience and passion and not what they have already achieved, where they've been published, how much they've made or can afford to pay.
Connect women in business across the globe so they can share knowledge and support each other from within their respective economies, lifestyles and experiences.
We really hope you will join our journey.